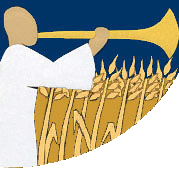 The Book of Mormon


Priesthood


Women & Priesthood


Consecration & Covenant


Called to Serve


A Voice of Warning


Proclaiming the Gospel


Building the Kingdom


Establishing Zion


Social Justice


Pioneer Heritage


The Gathering



The Gathering
Early Latter-day Saints regarded the gathering of scattered Israel as one of the chief purposes of the Restoration. The gathering was part of the Saints' vision for the coming of Christ's millennial kingdom and the renewal of the earth (A of F 10). In looking forward to the gathering, the Saints expressed faith that God was at work to fulfill the promises made in scripture.
The promise of the gathering is a promise of comfort for mourners and homecoming for exiles (D&C 101:13-14). This promise offers hope to all who have suffered loss or displacement or who feel alienated from family or faith community. The gathering also refers to God's ongoing effort to bring together all things in heaven and on earth—to forge union among all created beings through union with God (D&C 27:13). Like a hen gathering her chicks or a shepherd gathering his flock, Christ desires to draw to himself all who will come (D&C 29:1-2; 1 Ne. 22:25).
To be gathered means to become God's people through covenant relationship (D&C 42:9). As people of covenant, we are commanded to gather "out of Babylon" by rejecting cultural values and practices inconsistent with the gospel of love (D&C 133:7, 14). Being a gathered community makes us a diverse community, composed of people from many backgrounds who have learned to live in peace (D&C 45:69). Latter-day Saints no longer literally gather in the sense of migrating to one place. But we are still responsible to carry out the aim of the literal gathering— the building up of Zion—wherever we happen to live.
---
Joseph F. Smith: This is the dispensation of the fulness of time in which all things are to be accomplished; in which God has set forth His hand to gather His people, to consummate His purposes in the earth, and to fulfil the predictions of the prophets concerning His designs in the earth.
Collected Discourses (Burbank, CA and Woodland Hills, UT: B.H.S. Publishing, 1987-1992)
B. H. Roberts: The time has come for the restoration of the gospel; for the reestablishment of his church; for the ushering in of the dispensation of the fullness of times in which he has promised to gather together in one all things in Christ, "both which are in heaven, and which are on earth." A reign of peace, a reign of righteousness is about to be inaugurated—the Millennium which the scriptures promised—long looked for by earth's troubled children— despaired of—given up—is about to be realized!
New Witnesses for God. (Salt Lake City: Deseret News, 1909), 1:219-220
Heber J. Grant, J. Reuben Clark, and David O. McKay: We say unto you that in the darkest hours of these days of dread, tumult, and woe, the Lord is near to us, that He mourns over the iniquities and the sorrows of His children, that He would lead us into paths of peace if we would but follow Him. . . . He stands today ready as always to gather us in, even as a hen gathereth her chickens under her wings . . .
Messages of the First Presidency of The Church of Jesus Christ of Latter-day Saints
(Salt Lake City: Bookcraft, 1965-75), 6:171
Bruce R. McConkie: Many things have already been restored, and many things are yet to be restored. Israel has been gathered in part, but in many respects the greatest part of the gathering of Israel is ahead. The foundations of Zion have been laid, but the promised City of Holiness has yet to be built. We have done some of the things destined to be accomplished in this dispensation; we are now engaged in doing the very things reserved for our time; and there are many things ahead to be done by our children and grandchildren and by all those who shall build on the foundation we are now laying.
"Come: Let Israel Build Zion," Ensign, May 1977, 115