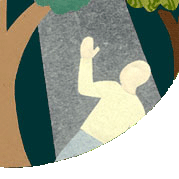 A SEARCH FOR KNOWLEDGE
If any of you lack wisdom, ask of God.
James 1:5
The story of the Restoration, in its standard telling, begins with an individual going into the woods to ask God a question. And God answers, confirming that anyone who needs knowledge "might ask of God, and obtain" (JS-H 1:26). Searching for knowledge has always been a principal focus of LDS spirituality. The essence of a person's commitment to this faith tradition is their "testimony," an infusion of knowledge which we receive, like Joseph Smith in the sacred grove, as an answer to prayer.
I know my Father lives and loves me too.
The Spirit whispers this to me
and tells me it is true.

"I Know My Father Lives" (Hymns 302)

Through personal revelation, we can progress throughout our lives in our understanding of the truth and of God's will for us. Revelation might come through prayer, scripture study, a patriarchal blessing, the teachings of living prophets, the lessons of experience, the exercise of our reason, or insights borrowed from a different faith tradition. However it comes, authentic Spirit-breathed revelation communicates God's love and teaches us how to grow into our full potential.